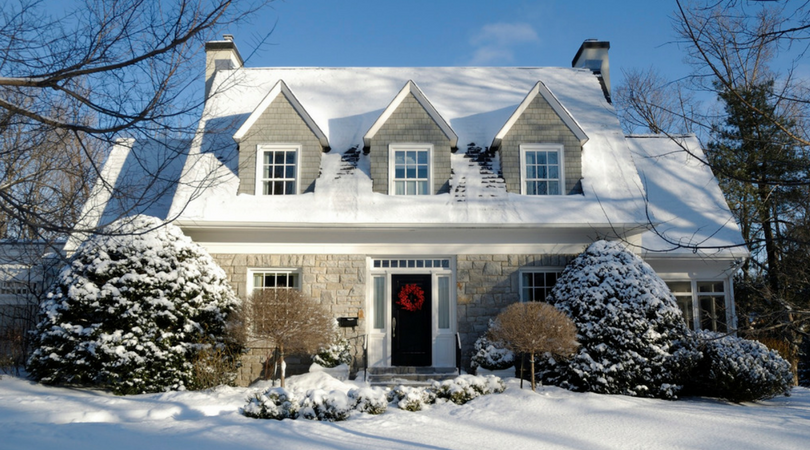 October is a time to transition from the warm summer months to the chilly days ahead. It's also the best time of the year to add cozy layers and schedule home maintenance necessary in readying your home for the cold winter months.
We have listed some important tasks that you can do in a few hours or over a weekend.
1. Cozy up!
Summer is officially over so swap out that light-weight bedding for fluffy duvet and flannel sheets. Bring added warmth by throwing in pillows made of faux fur, velvet, and wool. Complete the look with rugs and curtains that complement all the other elements in the room.
2. Stock up on firewood.
Getting warm in front of the fireplace is such a romantic idea. It's also a smart move in keeping your home warm while saving up on the electric bill. If you have a fireplace start stocking up on firewood. Remember firewood can invite pests so instead of keeping them indoors, find a shelter that protects them from rain and snow and never store it directly against your home.
3. Ensure safety.
While we're talking about firewood and fires, it's very important that you take the proper precautions. Test your smoke detectors as well as carbon monoxide detectors. Also make sure that your fire extinguisher is working and is within its expiration date.
4. Create a homework zone.
If you have students in the house, it's important that they have their own work space. A surface as large as the dining table is ideal but you definitely don't want them to use up that valuable space. If you have a spare room, convert that into a homework zone. Add a dedicated table and keep all the needed school supplies in a nearby cabinet or drawer.
5. Clean everything leather.
Leather furniture looks sophisticated especially if it's clean. However, there are different variations of leather figure out the type of leather your furniture is before treating it with any product.
If your furniture has unprotected leather, otherwise called as aniline, simply wipe with a clean, dry cloth. You also have the option to use a slightly dampened cloth to take out stubborn dirt.
On the other hand, protected leather, like the pigmented or the semianaline, should be cleaned using a cleaning solution of combined mild non- detergent soap and distilled water. You can also use commercial leather cleaning products on a microfiber cloth. Just make sure to read the label to determine the if you have the right product for your furniture.
6. Schedule home maintenance and checks.
The next few months will either be chilly so now's the best time to check up on your home. Inspect the roof and gutters. Pull out debris or any sticks that may be blocking them. Take note of the worn-out seals around the vent pipes and chimneys, too. If there are major repairs that need to be done, schedule them ASAP.
Another area of the house that needs to be checked is the HVAC. Make sure it's clean, safe, and ready to go. You might need a professional to check them and ensure that everything is in good working order.
Now is also a good time to clean out the dryer vents. This is something that you can do on your own. Washing machine hoses also need to be replaced every once in awhile. You want to avoid a leak that could damage parts of your home, so check them out now too.
7. Prepare your home for the cold months ahead.
Remove your window AC units, if you have them installed. If you can't take them out, then at least cover them from outside using protective insulation. Removing them allows you to completely close the windows and, therefore, minimizes heat loss during winter.
Next, make sure that you weatherstrip, especially older windows as they allow heat to escape easily.
Lastly, beef up your home insulation. Consider adding insulation to your inside walls and attic. This is one highly effective way of saving on your energy bills in winter. Your insulation will help retain heat in winter while keeping the house cool in summer.
8. Prepare your wardrobe.
Now's the time to sort through your wardrobe and remove the things you no longer wear. Collect items that need repair and either fix them or toss them. Make sure that your fall wardrobe pieces front and center so that they are most accessible. Also clean out totes and handbags, shoes, coats, and sweaters. This has nothing to do with winterizing, but everything to do with making your house feel clean and organized. And who doesn't love that? I always find things that I had forgotten about or come up with new ways to wear old items that I otherwise might not have thought of.
Preparing your home for the last few months of the year doesn't have to be too costly or time consuming. These sensible and timely tips can make the cool months ahead a whole lot cooler (see what we did there?).